As we have been living in the world of digital photography quite many years, we can't really appreciate all the benefits we get while compared to the old times. We can see every picture right away, after we take it. We can print it, share over the internet, etc... etc...
It was not possible some decades ago. New service - Old photo negative or colour slide diapositive scanning to digital picture JPG/TIF/PSD format. Afterwards you can handle your old photos the same way as your photos taken with modern digital camera. You can send your photos as an e-mail, share on the web, create photo-DVD etc.
As photos on film will lose their colours during the time then scanning of those valuable photos will make it possible to share them with your next generations.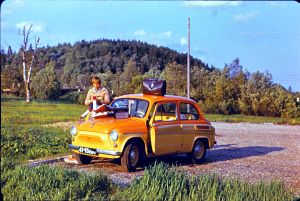 an example of diapositive slide from 1980
There are two solutions for scanning:
Only scanning where the result will be uncompressed Photoshop PSD file without any photo editing. This is the solution for those who want to do the entire photo editing (coloring, tuning, etc) by themselves according to their own taste. Price: 0,45 eur/piece.
Besides scanning also cropping, basic coloring/retouch and saving as JPG digital picture. This is the solution for those who don't know much about photo editing or just don't have time to spend for photo editing. Price: 0,9 eur/piece.
Applies to colour diapositive slides, photo negatives and photos.
Final result as JPG and/or PSD files will be saved on DVD disc.
Minimum amount per order is 20 eur.
In case of 300 or more slides/photos discount -10%
Customer will receive 1-2 samples on his/her e-mail for approving the rest of the order.
EST
ENG